Pin It Now!
My stampin' sister JoAnn found these frames at (lol) JoAnn's for A DOLLAR! Get out, right? They're gorgeous and sturdy.
So I decided to try using it as a dry-erase board.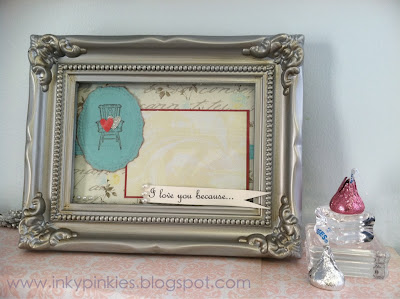 I used SU's new Attic Boutique DSP, layered it up at a 4x6 size, and added an image from Have A Seat in Early Espresso, run through the Big Shot with Decorative Frames embossing folder, and hand-tore the edges. Then I inked the edges in Poppy Parade to match the matting of the smaller rectangle, but inked from the backside first, distressed a little more with my fingernail, and touched up on the front side only where I thought it was needed. This way, the sponging is very subtle. Punched two hearts from Poppy Parade and silver Glimmer Paper and set them on the chair. I framed this portion at this point.
Below you can see that I added all the 3D elements on the outside of the glass...printed "I Love You Because" with my computer using French Script font, and printed on Watercolor Paper. It has such rich texture! Then I finished the edge with Basic Pearls and added a few more in the lower corner.
Here's the beautiful part...whenever you think of another reason, you can write a little love note to your special someone and leave it where they'll see it!
AND, I discovered that our Stampin' Write Markers work wonderfully in place of a dry-erase marker. to change the message, spray a bit of Stampin' Mist onto a tissue and it rubs off easily!
Here's my first message to my sweetie. I also plan to leave these messages to my children. Like, "Your smile lights up the room", "you give the greatest hugs", and "your techie genius always saves the day" <3
I used
The Paper Players current sketch
to inspire the layout, I just made it landscape to suit my needs. You should give it a try!
SUPPLIES:
STAMPS: Have A Seat
PAPER: Attic Boutique DSP, Pool Party, Poppy Parade, Watercolor Paper
INK: Early Espresso, Poppy Parade, Black Stampin' Write Marker
ACCESSORIES: Big Shot, Decorative Frames Embossing Folder, Heart to Heart Punch, Basic Pearls,
Have a blessed & creative day! Erika. www.erikaclark.stampinup.net