Pin It Now!
I always tuck a thank-you in my customers' bags, and for several reasons. 1) I love my customers, 2) I love to showcase products and techniques, and 3) I love an excuse to make cute things!
I whipped these up while sorting my order before work this morning.
I have to confess! I've tried to use the letterpress plates several times before, as they really intrigue me. Every time I tried, I'd tear huge holes in my CS and sit and pick the shreds out, swearing under my breath. THEN I READ THE ENCLOSED INSTRUCTIONS! LOL! Very easy, as it turns out :) tab "A", only one plate. Ah ha!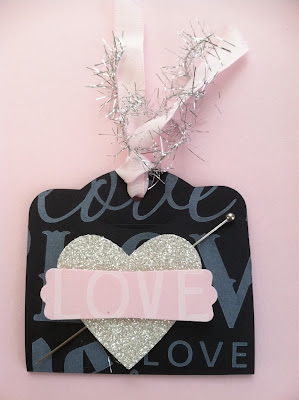 So let's have a look. Black CS, white Craft Ink, die cut from Two Tags. Inside I wrapped a sample of black Scallop Dots ribbon. But if I were handing out to friends, I'd stick some Andes Chocolates inside ;)
Below is the quickie recipe to put these together.
Basic Black CS pressed with White Craft Ink
8" Pink Pirouette 3/8" Taffeta Ribbon
Pink Pirouette CS, pressed with White Craft Ink, Punched with Decorative Label Punch. The little points on each short side are cut off so I can wrap the sample ribbon around.
Hat Pin
Silver Glimmer Paper, punched with Full Heart Punch
Scrap of the Pink Pirouette pressed CS punched with Modern Label Punch.
To easily stick the Hat Pin down, first stick Stampin' Dimensionals on the back of the glimmer heart, then place your pin on the tag, securing with the glimmer heart.
I'm playing with
Nina Dee's ribbon challenge
, as I added some tinsel trim on a few, I think that counts as metallic ribbon! Love her challenges, ribbon is my favorite embellishment.
Have a blessed & creative day! Erika. www.erikaclark.stampinup.net