Pin It Now!
It's snowing today, but it's all springtime in my craft room. It's full of these Twitterpated fabric blooms! Are you curious about using SU fabric but don't sew? Then grab your hot glue gun, a strip of Designer Fabric, and a scrap of ribbon and whip up one of these rosettes. I've made them into keychains. Here's how...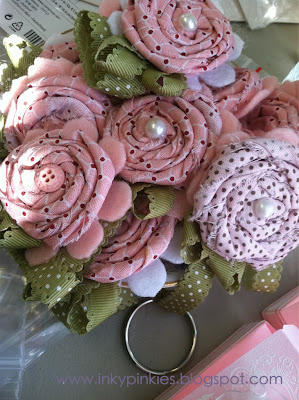 Tear a 3" x 24" strip of fabric and tie a knot at one end. Heat up the glue gun.
Wind and roll the fabric around the knot in the middle, adding dabs of hot glue as you go. Tuck the last bit of fabric and glue it to the back.
Using the Big Shot and Blossom Party die, cut a flower from felt, burlap, or paper. Felt works nicely.
Cut one 6" and two 3" lengths of ribbon. This is SU Dotted Scallop ribbon.
The leaves are formed from the 3" pieces like this.
The 6" strip is folded in half & hot glued, along with your two leaves Then seal it all in the back with your felt flower. Slide a keyring onto the ribbon loop and you have a sweet handmade accessory!
They fit nicely in Stampin' Up's Bitty Box.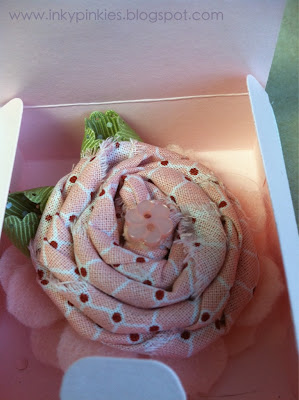 Here's my bunch, ready to swap!
Have a blessed & creative day! Erika. www.erikaclark.stampinup.net