Pin It Now!
Here's a seriously fun card for someone you love. Or like a lot!
It's Stampin' Up!'s new Maze Game set from the Spring Mini, and I plan to have a LOT of fun with these.
This one is wrapped in pleated ribbon and propped up on an easel card to show it off a bit.
Lots of glitter hearts are added. Some to hold the easel, some just 'cause!
Here's how it looks closed. These angle easels are really easy. Just start with a 5-1/4" square card, and score from the bottom left to the top right, with the card opening from the side (not the top). This way will guarantee that all your embellishments stay right-side-up when you open the card and don't turn sideways. Believe me, I know ;)
Here's a back view. I made sure to cover the back of the maze puzzle, which would otherwise be white, so it looks finished from all angles.
This is how it looks opened traditionally, so you can write a nice BIG love note at the top.
Detail of the back of the puzzle. I used Sticky Strip to run the pleated ribbon around the backside of the puzzle, then covered it with a 2-1/2" circle of DSP, adhered with Stampin' Dimensionals so the ribbon won't get crushed. I love those embossed hearts! I also took the tiny balls out of the puzzle and put rhinestones in there, shaker-card style, but they didn't show up as well as I hoped.
Below is an an angled view, not too much bulk, but still plenty going on there!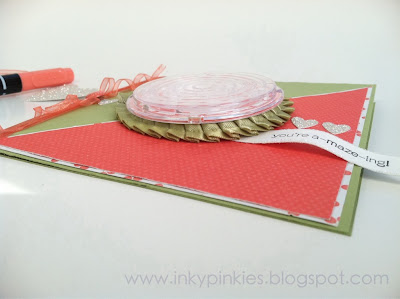 I was inspired by two challenges, first one is SUO37,
Stampin' Up Only challenge to use your NEW stash
.
Second is this great sketch from
Friday Mashup
.
SUPPLIES:
STAMPS: Totally A-maze-ing
PAPER: Sweet Shop designer DSP, Silver Glimmer Paper, Pear Pizzazz, Whisper White
INK: Calypso Coral, Basic Black
ACCESSORIES: Maze Game, Pleated Satin Ribbon (Pear Pizzazz), 1/8" Organdy Ribbon Everyday Enchantment (Calypso Coral - SaleABration), In Color Printed Designer Brads, Small Heart Punch, Heart to Heart Punch, 2-½" Circle Punch, Dazzling Diamonds Glitter
BASICS: Simply Scored, Dimensionals, Sticky Strip


Have a blessed & creative day! Erika. www.erikaclark.stampinup.net