Pin It Now!
I'm holding a Tags, Bags, Boxes & Bows gathering at Wittman UMC on Sunday, Dec 12th. We'll have a dozen beautiful little projects to choose from, and I'm going to post all of them over the next week.
Here are my first sets of gift tags!
This first set is a sparkly but elegant tag set with glimmer paper and Bells and Boughs. A little satin ribbon & popping up. Pretty and pretty easy!
Next up is a gorgeous velvety combo. Mocha Morning is so rich and elegant. The tag is a CASE from UstampWithDawn's I Heart the Holidays event, by the fabulously talented Gretchen Barron, and I created a wine bottle tag to go with it.
Third set is a super quick & easy group made with antiqued Very Vanilla, the Ticket Corner punch & quilted ribbon trim. With the right supplies, even a one-minute tag can make your gifts look SO put together!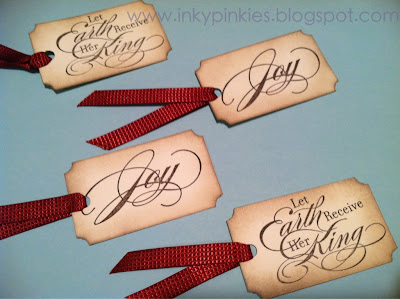 Can't wait to get together with all my wonderful friends and neighbors. This is what it's all about <3
I'll be posting gift bags next!
Have a blessed & creative day! Erika. www.erikaclark.stampinup.net