Pin It Now!
Can you guess what I volunteer for at school? CRAFT projects! Yay! I can't get enough. We put together these super cute pumpkin mosaics...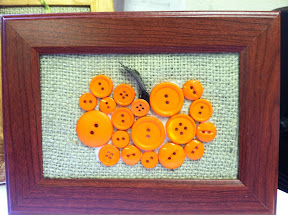 Dollar store picture frame 2/$1.00
Burlap scrap & clearance buttons from JoAnns.
Scrap ribbon.
Elmers glue.
Total cost each, about 75 cents.
My guy with his art. Still freshly glued :)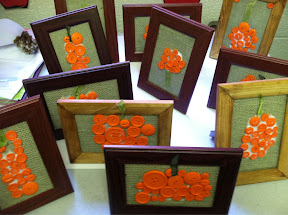 The "patch" drying.
My inspiration came from Pinterest. Have you gotten hooked yet? I'm surprised I have time for anything else.
Here are some cute little party favors. Indian corn made from tamale husks & Stampin' Up cello treat bags. These were a CASE from the very creative & talented Rachel Ricks at The Little Blue Room.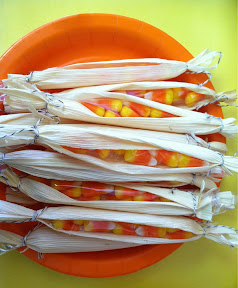 The kids thought they were cool!
Have a blessed & creative day! Erika. www.erikaclark.stampinup.net