Pin It Now!
Help! I need an intervention! I should be doing SO many other things, but I'm hooked on making Christmas cards. I was actually dreaming about this sketch. Thinking about it during the sermon at church. While cooking bacon. So the only way to get it off my mind was just to do something about it!
The glimmer paper makes this wreath so dreamy! A few punches from the bird punch, a few glue dots, and some red glimmer holly berries from the owl punch. Finished off with a bow of Real Red 1/4" grosgrain & a rhinestone brad. I wish I had one like this to hang in my house!
The sentiment is from The Sounding Joy. I stamped it on a piece of Whisper White, then trimmed evenly around the word, leaving enough room around all 4 sides to run 2 score lines down each side. The Simply Scored tool makes it look so well finished.
Here's the Stamping 411 sketch...
Can you tell that I do my blogging on my iPhone?!
The main card base is from a Simply Sent kit. These kits are great! Precut, embossed, scalloped. Envelopes & sentiment trim included.
Here's the bird punch that the wreath leaves came from. The wrap & interlock so nicely.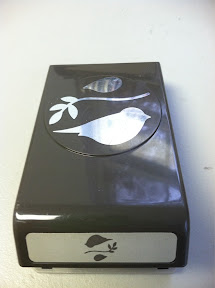 Happy Sunday to all! I'm decorating for Christmas this weekend to leave more time in December for the good stuff.
Have a blessed & creative day! Erika. www.erikaclark.stampinup.net