Pin It Now!
The current Hand Stamped Sentiments Challenge is to use the Bargello technique. This is done using strips of paper, fabric, etc and aligning them to form interesting patterns. I've been meaning to make a new insert for my Simply Adorned charm, so I used the technique on a striped paper from Holly Berry Bouquet DSP.
The stripes are trimmed at 1/8" and 1/16" wide and spaced to form a block pattern behind the glimmery snowflake. It does add interest and texture, which I like in that tiny space. Lots of sparkle!
The other side is a scrap of Cherry Cobbler embossed with Snowburst folder. I layered 'wish' from Pennant Parade with a scrap of silver Glimmer Paper. The I stamped the little girl silhouette from Welcome Christmas and punched her out by cutting the image into a strip and feeding it into the Modern Label punch, one side at a time to the size I like.
Added a Bauble and a Trinket Key, with a scrap of Very Vanilla Seam Binding Ribbon.
I wore it today & already got compliments :) I heard my first Christmas song on the radio today too, it was Last Christmas by Wham or George Michael. LOL. Not my favorite but I was still excited!! So it begins!
Here's the info on the challenge, maybe you'd like to give it a go?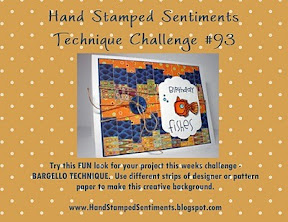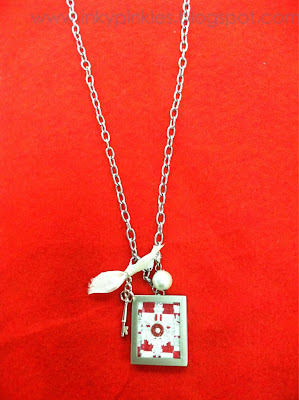 Have a blessed & creative day! Erika. www.erikaclark.stampinup.net