Pin It Now!
I recently hosted a swap with a bunch of truly talented ladies, and I wanted to share their cards with you. Hopefully you'll be inspired to create, as I certainly was!
The first batch is Fall themed, and tomorrow I'll share the Winter/Christmas.
First up is JoAnn, who made this lovely scallop circle card. It's held together with a cute little belly band, and opens to reveal a little Pool Party message!
Spice cake looks so fresh against Crumb Cake CS!
Next up is Wendy's card. Don't you just love that medallion?! Why haven't I bought that stamp set yet? Those witchy feet are so cute! Love all the punching & techniques. Wicked Cool stamps, wicked cool card!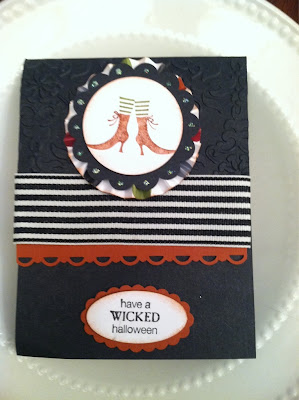 This card was done by my very talented friend Danyelle. I LOVE her blog, you have to check it out.
She always makes me laugh, but she's sweet too, and so creative!
I love this message of gratitude and the lovely tree with just a touch of bling.
Hand Penned Holidays, Lovely as a Tree.
Here is a beautifully detailed card from my friend Iris. Lots of paper piecing and layering here. She always decorates the insides & envelopes to match.
Here's Rose's card. We've been swapping cards for over 4 years! This wreath is from a hostess set in the Holiday Mini. She used the new Dazzling Details to add sparkle to the leaves.
Here's a bunch of chocolate minis I wrapped in Pick Your Poison DSP and plunked them in a dollar bin bucket with dollar bin moss. I know Halloween's over but I think I may do this for Christmas too!
Hope you enjoyed! Please message if you have any questions on supplies used.
Have a blessed & creative day! Erika. www.erikaclark.stampinup.net