Pin It Now!
I hosted a Tickled Pink workshop and swap last weekend, where we enjoyed lots of pink goodies, pink decorations, and swapped gorgeous
PINK
projects.
This was an anything-goes swap, as long as there was pink in it somewhere.
I wanted to share with you all the beautiful creations from the girls...
SHERAHL
Sherahl made a fabulous treat holder, and handmade heart shaped rice crispy treats with her precious grandson to tuck inside. For all the details you can
check out her post here
.
RACHEL
Rachel outdid herself with this way over-the-top pretty backpack! It's SO girly-girl and expertly done. I myself, choose not to use white for most of my papercrafting, because I am Inkypinkies and can't keep things clean :). Rachel can though!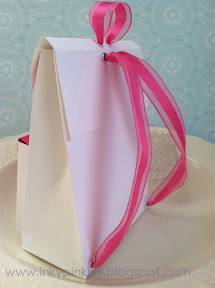 WENDY
Wendy makes the cutest projects and I love her style SO much. She made an anti-bac holder, using Melon Mambo, hand cut doilies from Flirtatious and glimmer paper, glitter, and bling! Fit for a pink princess!
DANYELLE
What can I say to do justice to this card? It's perfect and nobody will ever receive it from me because it's in my permanent inspiration place. This girl knows how to use a stamp to its maximum potential! She used P.S. I Love You stamp set from the Spring Mini, the new Doily die and Smooch spritz, and then there are details that go on forever. Eyelet border punch, pleated ribbon, bling, Distress Stickles, embossing.
She's also a fantastic blogger and gives me a big old belly laugh everytime I read her blog.
Please check her out here.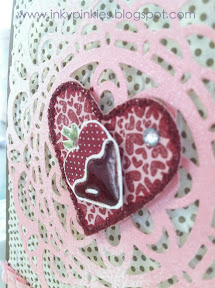 JOANN
JoAnn is a major blessing in my life, my neighbor and my crafty sista. She turns out all pretty stuff, and this card is no exception! Crumb Cake, Beau Chateau DSP, Framelits, Apothecary Art, Velvet Trim.
IRIS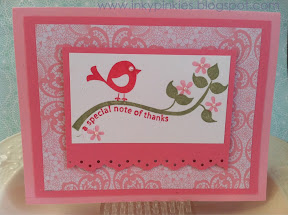 Iris is an avid cardmaker, and her cards are always cute, clever and inspiring. Her pretty thank-you card features Flirtatious DSP against Regal Rose and Pink Pirouette. Fine pink choices :)
ELSIE
Elsie's card is out of this world! A slider card with paper piecing on the hot air balloon. Love it!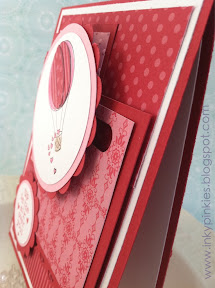 JUDYANNE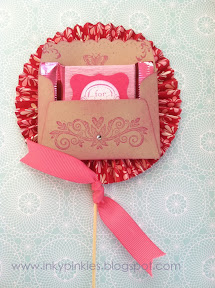 JudyAnne, you are the real deal! She made all three of these goodies, the medallion pop above nestles in the box below. I am at this very moment eating the Kisses from this box. That red one there? Gone. Oh yes I did.
The medallion has an envelope from Scallop Envelope Die on it, with a beautiful pink Girardhelli chocolate in it, calling my name. It says, "For You", right?
Judy also made this little sweetie, with Sixlets for limbs. I'll be CASE-ing this for my 2nd grader's Valentine's Day party. He voted it best of the bunch!