Pin It Now!
I am so honored to be designing projects for Ustamp With Dawn and Friends, and today my latest project premiered on her site!
It's a 6" x 6" layout with easel back, matching card and "trinket" box. I designed it with a specific use in mind - to document the memory of a loved one or a cherished time, and tuck mementos in the box.
I want to share with you how I finished my project.
My sweet Gram passed away in May of last year. She was an everyday part of my life for so many years, but particularly the last five, when she suffered from Alzheimers Disease and slowly came to need everyday care. Dealing with a loved one with memory loss is very difficult, but as in all things, there are blessings that come from these times. She loved my children fiercely, always wore a smile, and was my constant cheerleader. So, I finished this little layout and box to capture the good times and hold a few keepsakes of the times I'm grateful for.
Here's us...
Here is the finished trinket box...there's a locket with curls from MY first haircut that she always kept :), and some little things she kept beside her.
I made little picture cards with journaling blocks on the back. They're 2-1/4" x 3-1/4" on Poppy Parade, with 2"x2" squares of Very Vanilla, stamped with the lined journaler and date stamp from Notes & Details. Die cut butterflies from Beautiful Wings Embosslits are the only embellishment. Keep it simple, and repetition works!
Thanks so much for looking! You really should check out all of the wonderful projects Ustamp With Dawn has to offer. It's $24.99 for three months of access to 40+projects, chats, and community events. Here's the link:
http://bigshotroundupuswdaf2012.ning.com/main/authorization/signIn?target=http%3A%2F%2Fbigshotroundupuswdaf2012.ning.com%2F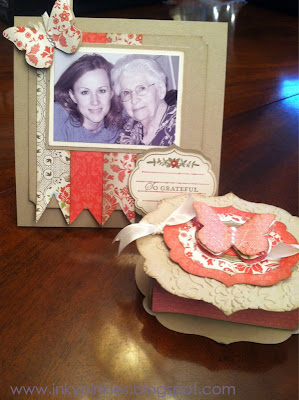 Have a blessed & creative day! Erika. www.erikaclark.stampinup.net