Pin It Now!
Today we were
finally
SNOWED IN! I have so been craving a snow day. Amidst the boys' wet clothes, mopping up bootprints, and chucking wood in the stove, I made a bright bouquet of Fresh Vintage flowers.
I love the color combo of shabby Basic Grey, Wisteria Wonder, and Poppy Parade. A little Lucky Limeade to tie it all together.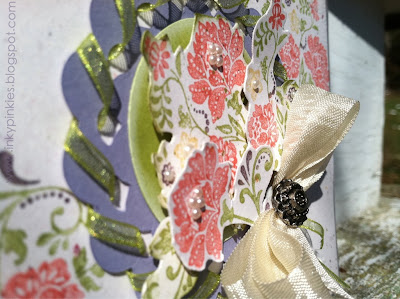 The scalloped circle is a die cut from Perfect Pennants, laced together with a little Lucky Limeade Organdy Ribbon from Sale-A-Bration. A 1-3/8" circle punch of Lucky Limeade fills in the center, and hand-colored and cut bouquets from Fresh Vintage. I spritzed a little Basic Grey and Lucky Limeade here and there to ink up the Confetti White cardstock even more.
An Antique Brad cinches the center of a seam binding ribbon bow. My thought was that it looks like a little hand-tied bouquet, for a shabby-chic look. Shabby chic doesn't come naturally to me, but I really love the look when I see it!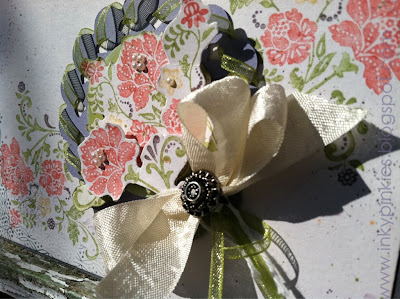 I used
The Friday Mashup's sketch and theme FM46
for my inspiration...
As well as
Cupcake's Creations color challenge
. Excellent combo!
Here's the view of the tree outside my window today. I. LOVE. SNOW.
Have a blessed & creative day!
Erika