Pin It Now!
Here's a versative sneek-peek set coming out in January's Sale-A-Bration. It's bold and graphic, and so easy to love!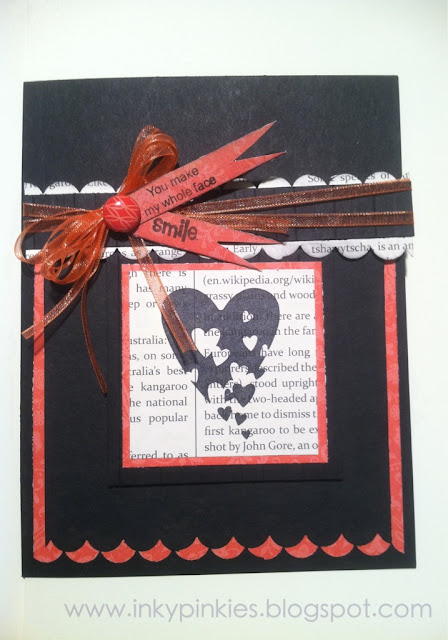 Now, do you ever set out to do a particular thing to a card, and mess it up? But it turns out cute and you surprise yourself at the creative talents you didn't even KNOW you had?!! Yah, that's what I did with the scalloped border at the bottom. I thought I had it set so the scallops would line up perfectly, but I had it wrong. But it was exactly a half scallop off, so it looks right :D
I used the striped embossing folder for just the middle black square for added texture.
Carried the scalloping through top to bottom.
The stamp set is
new for Sale-A-Bration,
called Sprinkled Expressions. So cute and easy to use, requires no coloring or fussiness.
The brad and organdy ribbon, and the DSP are also Sale-A-Bration, Everyday Elegance.
The ribbon is easy to layer and super shiny, it really adds a nice punch.
I took on this week's
Stampin' Up Only Challenge #35, Feeling Punchy
. Since I'm away from home this week, I only took a handful of punches, literally FIVE! But I grabbed one and went to town anyway, and who would know?!
SUPPLIES:
CARDSTOCK: Basic Black
DSP: Everyday Elegance, First Edition
STAMPS: Sprinkled Expressions
ACCESSORIES: Organdy ribbon, Designer Brads, Scallop border punch, striped embossing folder
Have a blessed & creative day! Erika. www.erikaclark.stampinup.net