Pin It Now!
The next few posts will highlight all the crafty gifts that my neighbor JoAnn & I are whipping up for the ones we love! We've been buying, planning & pinning for weeks, and we're proud to say we are putting together some cute projects.
This is a pair of handmade earrings made of Stampin' Up! jingle bells strung together with jump rings onto silver fish hook style earrings. Each earring has 4 bells, and one one each is glittered with red & silver Galaxy Glitter.
I hooked them onto a handmade burlap sachet. To make the sachet, simply cut out a long rectangle of burlap, about 3-1/2" wide by 7" long. I used pinking shears. Then fold in 1/2 and cut to make 2 even squares. Stitch them around 3 sides with a zig zag stitch. While still under the foot of the sewing machine, stuff a little filler scented with lavender oil into the pocket. Stitch the 4th side, and voila! You have a cute little rustic pillow!
I ripped a long length of Deck the Halls Designer Fabric and then stitched that across two sides, then formed a bow on the front. Stamped "merry" from pennant parade onto a tiny tag & wrapped that onto the bow.
I tucked it into a SU Kraft Box. Keeping it simple!
I layered Real Red Grosgrain Ribbon with a torn strip of burlap to hint at the contents, and put a sparkly tag of glimmer paper, organza ribbon, and a sentiment from Bells & Boughs on top.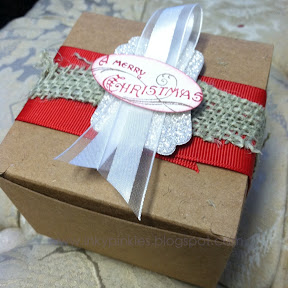 I plan to make a bunch of these for friends. I hope they know I care for them extra because i made something myself for them ;)
I'm playing along with
Hand Stamped Sentiments HSS97
, An Old Fashioned Christmas. Should be a great challenge, since I know so many people are getting back to homespun goodness. Give it a try!
Have a blessed & creative day! Erika. www.erikaclark.stampinup.net