Pin It Now!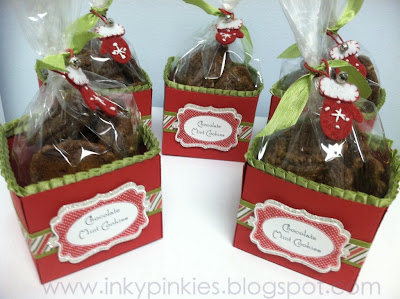 I attended a fun and festive cookie swap at my upline, Sherahl's house last night. Thought I'd share all the beautiful cookie packaging, incase you need some ideas (like I did yesterday morning)!
This one is mine.
It's a box made with the Simply Scored tool.
8x8 square of CS, score @ 2.5" all around. Fold. Assemble. Embellish.
Mine features some brand new pleated ribbon around the top, available Jan 3 from SU! Four Frames, glimmer paper, Winter Felt embellishment, jingle bell, Pear Pizzazz seam binding ribbon, Letters To Santa DSP around the middle.
I made the box to reuse, just tuck another little gift in and regive!
I used the
Cupcake Inspiration Challenge
for the colors & shape of this box. Here's the inspiration photo:
And here's me!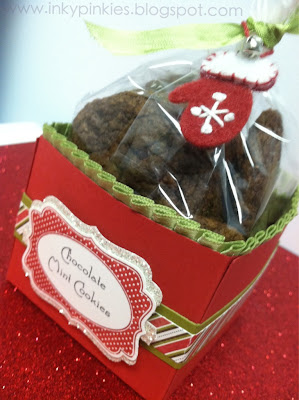 This one is JoAnn's. She made the most beautiful, sparkling cookies to show off in the mason jar.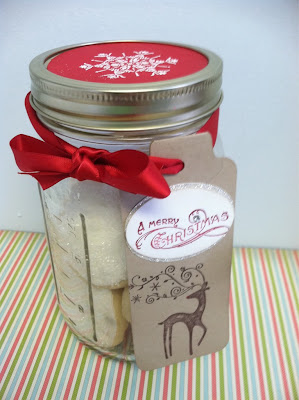 This is Wendy's. Gift card holder! Yay! I'll be regifting this little beauty. The cookies are already gone. Peanut Butter Kisses don't have a snowball's chance near me.
Betsy made some beautiful embossed tags. Yummy chocolate chippers too.
Cute SU single stamp puts it together in a snap.
Sherahl's packaging is warm & inviting. Felt. Ribbon. Yummy cake box cookies. My son, CJ, voted these the most delicious. They have Heath bars crushed up in them.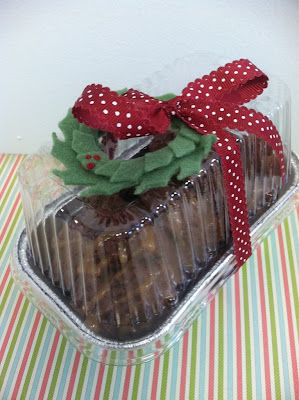 Pretty, pretty tag. A little bling. Cute, colorful bag. :)
Jaime made a very creative ornament punch art tag, mounted on glimmer paper. I snipped that one off to save too!
Hope you enjoyed!
Have a blessed & creative day! Erika. www.erikaclark.stampinup.net