Pin It Now!
I've noticed that lately the winds are changing direction, the ivy is starting to turn its telltale crimson outside my window, and flocks of geese are stirred up and flying over. That can only mean one thing...Autumn is on its way! Oh, I can't wait! Cool mornings, blue jeans, cider, long school days to make cards....
Speaking of which-
I got my first preorder from the Holiday Mini yesterday, and it is divine! This is my first card made with the Spice Cake suite.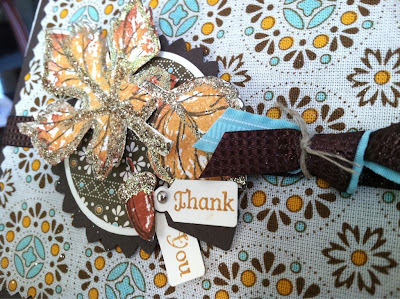 I've had a couple of requests for the supply list so here's what I used:
Cardstock: Very Vanilla, Early Espresso, Spice Cake DSP
Fabric: Spice Cake cut with pinking shears
Stamps: Gently Falling, sponged with More Mustard, Cajun Craze, Read Red, and Daffodil Delight
Glitter used is Galaxy Glitter in Gold
Metal Embellishment: Mini Brad
Ribbon: Early Espresso Quilted Ribbon, Pool Party Ruffled Ribbon, Linen Thread
Tag Punch, stamped with TY from Day of Gratitude
I combined all sorts of textures to put this card together.
-fabric
-ribbon
-glitter
-metal
-linen thread
It would make a great masculine birthday card, too.
SUPPLIES:
Paper: Spice Cake DSP, Early Espresso, Very Vanilla
Stamps: Gently Falling, Day of Gratitude
Ink: Early Espresso, Cajun Craze, More Mustard
Embellies: Spice Cake Designer Fabric, mini brads, superfine gold glitter, Pool Party ruffled ribbon, Early Espresso quilted ribbon, linen thread.
All of these new supplies are available to order Sept 1. Please email me if you'd like to get in on my expedited order for your new goodies.
Yay for the Holidays!!!
Have a blessed & creative day! Erika. www.erikaclark.stampinup.net