Pin It Now!
For an upcoming wedding of a very special friend, I volunteered to make favors. Actually, I stated the fact.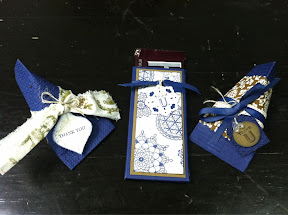 Here are the samples. Navy and cream are the colors.
I love these little treat boxes. They go together so easily. Mine are 4-1/4" by 5-1/4", roll the longer end into a cylinder & adhere with sticky strip. Pinch one end shut & adhere. Fill, close up & embellish.
For both of these, I wrapped with fabric. I like the texture it adds. The second one is pinched shut with a crimper.
Finally, who can resist a big, sweet Hershey Bar? These were the bride's favorite. Which is yours?
Time to order some Night of Navy CS ;)
Have a blessed & creative day! Erika. www.erikaclark.stampinup.net