Pin It Now!
Q: Can I make a card at 70 mph?
A: Oh, yeah.
I tackled this Stamping411 challenge in my motorhome today across two states (Ohio & Michigan)!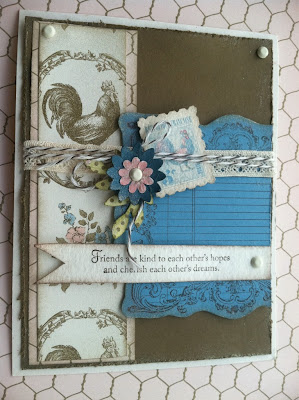 Beau Chateau die cuts, miscellaneous flower punches, ribbon scraps, almost everything here is a leftover.
I'm so glad I have my little box of random bits!
Armed with my tote and a boxful of random scraps, this is what I felt like today, and this was my guide...
There were a few sudden stops and a couple broad turns that had paper, ribbon, and tiny embellishments sliding away. Then there was the overhead light that worked loose and crashed down on my table, scaring the dickens out of me and scarring my treasured paper trimmer!
OUCH! Road Rash!
But you can't frolic in papercrafting without sometimes having to do battle.
I am claiming victory on this one :D
Supplies:
Stamps: Cherish Friendship, Notably Ornate
Paper: Beau Chateau, Soft Suede, Watercolor Paper
Punches: Bird Punch, Boho Blossoms
Ink: Crumb Cake, Pink Pirouette, Certainly Celery
Have a blessed & creative day! Erika. www.erikaclark.stampinup.net